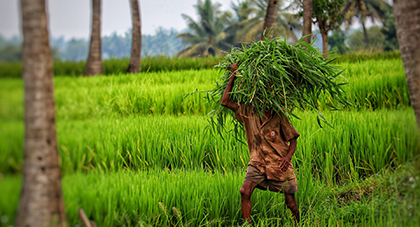 The Incoming Of Agritech
In India over 58% of the population still depends on agriculture, however, this industry accounts only 20% of GDP suggesting a growing need to harness potential technology to improve economic and business prospects of all concerned stakeholders.
Like fintech and ed-tech, agritech or agtech has become a promising arena for businesses as well as investors. Consider this fact, India had 38 agritech startups in 2013 but has now reached a handsome number of more than 450 Agritech startups and this number is growing at the rate of 25% each year, according to NASSCOM.
Traditional challenges and the rise of agritech
Indian agriculture is plagued with many challenges and uncertainties leading to inefficiencies in the ecosystem such as unavailability of good quality seeds, poor market linkages, poor irrigation facilities, loss of data at various stages of the agriculture value chain faced by both farmers and businesses in the agrarian sector. However, the onset of agriculture technology has created a space for innovation that can drive efficiency and raise productivity levels. This is where we have seen startups jumping in and creating immense value by leveraging new age technologies such as IOT, Artificial Intelligence, Machine Learning, Precision farming etc, and marrying them with big data to make sound decisions. For instance, consider IoT technology that has improved the farm management system by deploying sensor technology in any physical item such on farms. This helps farmers to make data-centric decisions. Artificial Intelligence too has opened up a new window with regards to farm management in the form of unmanned drones that can be used for irrigation purposes. Other applications of AI are weather predictors, automated machinery, AI-enabled planting and weeding, and automated harvesting. AI also works in areas such as soil testing and analysis, predicting suitable environments for crops' safety.
About Krishify – a social network for farmers
Krishify is a social networking and commerce platform for Indian farmers that has become the largest such online community of agriculture stakeholders in India. As users, farmers on the Krishify application can connect with their peers across the geographical boundaries, post queries on farming challenges, seek expert advice, browse through the integrated digital marketplace to buy any product across the value chain such as seeds, fertilisers, pesticides, tractors, cattle, heavy-duty machinery etc. Moreover, Krishi TV, an Instagram-like platform has given a stepping stone to agro-influencers to indulge in short-form video creation and promote sponsored content showcasing products by brands.
Summary
Startups are undoubtedly disrupting traditional agriculture leading to a win-win situation for both farmers and businesses to adopt digital technology bringing in efficiency and productivity.